Motion Control Technology
Improved Equipment Design with the Small, High Torque
SANMOTION R Series 400 VAC Servo System
October 28th, 2020
SANYO DENKI has developed and released the SANMOTION R 400 VAC input multi-axis servo system.
The R Series servo drive can smoothly operate 20 to 37 kW high torque servo motors, and is ideal for engineers designing machine tools and injection molding machines.
It also has functions for estimating equipment faults from the servo system's operating history.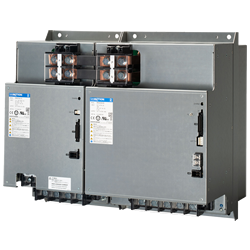 High-speed Sampling Mode Shortens Total EtherCAT Cycle Time

62.5 μs of communication cycle becomes available when high speed sampling mode is selected.
Applicable communication cycle is 62.5 μs only.
Object number allowing PDO mapping is 10 maximum.
Operation mode applies cyclic sync velocity mode (CSV) or cyclic sync torque (force) mode (CST) only.
The objects updating with 62.5 μs communication cycle are listed below. The other objects are update with 125 μs even if PDO mapping is performed.
EtherCAT Operating Principle
Motion Control Features
1. Smallest Size Servo Motor in Industrial Automation(1)
Variations of the servo system's control, power supply, and servo drive units are available for selection to build multi-axis servo systems that best suit engineering's requirements.
With the smallest sized servo in the motion control industry, this servo system provides a high degree of freedom, contributing to the downsizing of manufacturers' equipment.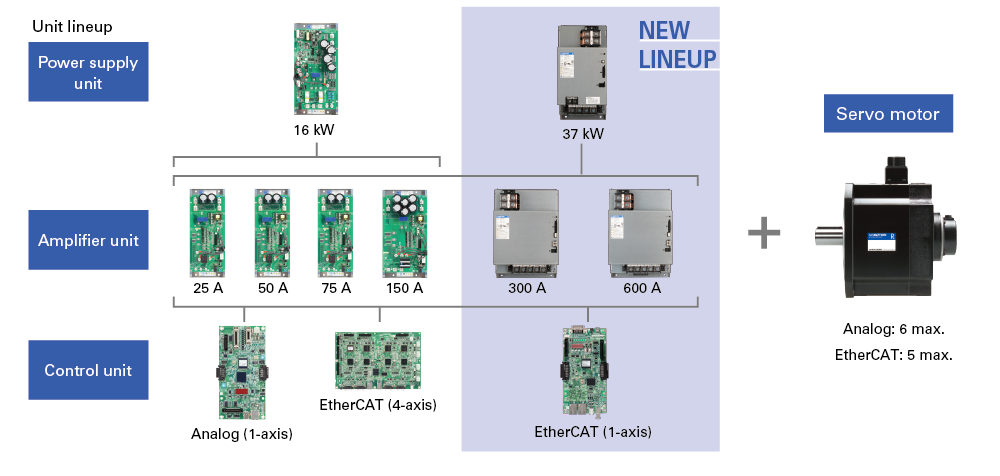 2. Improved Frequency Response & EtherCAT Cycle Time for Synchronized, Deterministic Motion Control
Compared with our current model,(2) speed frequency response has been doubled(3) and EtherCAT data transfer rate has been shortened to half(4) to achieve smoother motion control.
The SANMOTION R Series was introduced as a high-performance multi-axis servo system characterized by extremely high dynamics and very short cycle times. The motor current is scanned in μs cycles and the minimum adjustable EtherCAT cycle time is 62.5 μs. Thanks to a high-speed sampling mode, process data can now be scanned several times within a communication cycle if required and transferred to the controller via EtherCAT.
3. Monitor Servo Brake & Resistors for Preventive Maintenance
The SANMOTION R Series servo drive features a function to monitor the servo motor's holding brake degradation and notify engineering or maintenance via the motion control system. The servo system also monitors its power consumption and communication to avoid motion control failure improving maintenance and overall equipment effectiveness (OEE). These contribute to preventive maintenance and remote failure diagnosis of user equipment.
(1) Based on our own research as of October 28, 2020.
(2) Comparison with our current model RM2C4H4.
(3) Speed frequency response 2,200 Hz (1,200 Hz for the current model)
(4) Minimum communication cycle 62.5 μs (125 μs for the current model)
Specifications: SANMOTION R Series Servo System
Control unit
| Model no. | RM3C1H4 |
| --- | --- |
| No. of controllable axes | 1 |
| Interface | EtherCAT |
| Functional safety | STO (Safe Torque Off) |
| Dimensions [mm] | 90 (W) × 180 (H) × 21 (D) |
Power supply unit
Model no.
RM3PCA370
Input voltage and current
Main circuit power supply
3-phase 380 to 480 VAC (+10, -15%), 50/60 Hz (±3 Hz)
Control circuit power supply
24 VDC (±15%), 4.6 A
Rated output capacity
37 kW
Input capacity
64 kVA
Compatible amplifier unit
25 to 600 A
Dimensions [mm]
180 (W) × 380 (H) × 295 (D)
Amplifier unit
Model no.
RM3DCB300
RM3DCB600
Input voltage and current
Main circuit power supply
457 to 747 VDC
Control circuit power supply
24 VDC (±15%), 2.2 A
24 VDC (±15%), 2.6 A
Amplifier capacity
300 A
600 A
Compatible motor
20 to 30 kW
37 kW
Compatible encoder
Battery-less absolute encoder
Dimensions [mm]
250 (W) × 380 (H) × 295 (D)
250 (W) × 380 (H) × 295 (D)
Product Line: SANMOTION R Series Servo System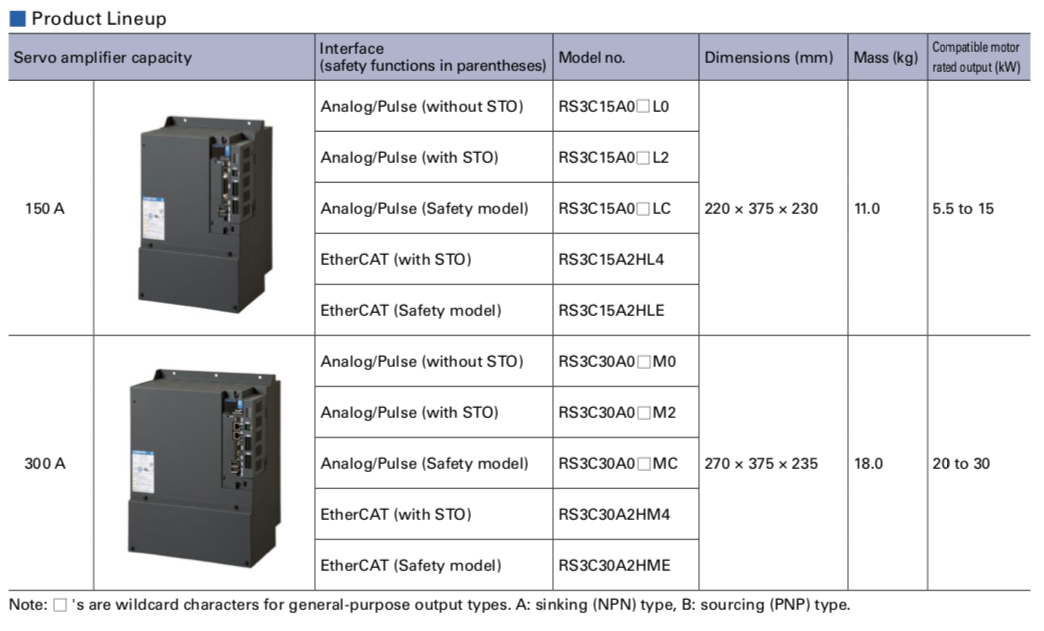 Sanyo Denki's EtherCAT Product Development
Since the first public demonstration of 1216 servo axes in synchronized motion, called
Kinetic Rain
, Sanyo Denki has been at the forefront of servo drive development to provide the most up-to-date EtherCAT cycle time available and deterministic control of IO and motion.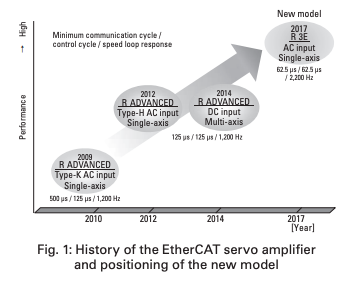 Applications
Injection molding machines, machine tools
Release Date
December 18, 2020
Price
Open
Note: The information stated in this release is current as of October 28, 2020.
"SANMOTION" is a trademark of SANYO DENKI CO., LTD.