Product News
SANYO DENKI Develops 92 × 92 × 25 mm Oil Proof Fan
With industry's highest airflow and static pressure
November 28, 2019
SANYO DENKI has developed and launched the San Ace 92WF 9WFA type 92 × 92 × 25 mm Oil Proof Fan. This fan features the highest airflow and static pressure in the industry.(1)
It can be used with confidence, even in environments with oil mist where cutting fluids are dispersed in the air.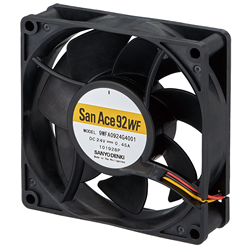 Features
1. High Airflow and High Static Pressure
This fan delivers a maximum airflow of 100.6 CFM and maximum static pressure of 1.0 inchH2O.(2)
Compared with the current model,(3) maximum airflow and maximum static pressure have increased 2 times and 3.8 times, respectively.
2. Oil-proof
The windings and electronic components are structurally protected by materials with excellent oil resistance, and stable operation is maintained even in harsh oil mist environments.
(1) Based on our own research as of November 28, 2019, conducted among equally-sized oil proof fans on the market.
(2) Tested using a model 9WFA0924G4001
(3) Current model: San Ace 92WF 9WF type 92 × 92 × 25 mm Oil Proof Fan (model no. 9WF0924H401).
Specifications
Dimensions: 92 × 92 × 25 mm, Mass: approx. 170 g
Model no.
Rated
voltage
Operating voltage
range
Rated
input
Rated speed
Max. airflow
Max. static
pressure
Sound
pressure level
[V]
[V]
[W]
[min-1]
[m3/min]
[CFM]
[Pa]
[inchH2O]
[dB(A)]
9WFA0924G4001
24
20.4 to 27.6
10.8
7350
2.85
100.6
250
1.0
56
9WFA0924H4001
6.72
6100
2.35
83.0
171
0.69
52
Expected life: 40000 hours (L10 life: 90% survival rate for continuous operation in free air at 60˚C, rated voltage)
PDF Catalog
Applications
Machine tools, control panels, inverters, industrial equipment
Release Date
November 28, 2019
Price
Open
Safety Precautions
Safety Precautions [PDF:228KB]
Note: The information stated in this release is current as of November 28, 2019.
" San Ace " is a trademark of SANYO DENKI CO., LTD.