Product News
SANYO DENKI Releases Ultra-Compact SANMOTION C Motion Controllers
With high-speed EtherCAT fieldbus
October 10, 2018
SANYO DENKI CO., LTD. has developed ultra-compact SANMOTION C motion controllers featuring high-speed EtherCAT fieldbus.
They are available in a high-performance type for controlling robots or a standard type that specializes in PTP (Point-to-Point) positioning. They are suitable for motion control applications such as robots, conveying machines, and semiconductor manufacturing equipment.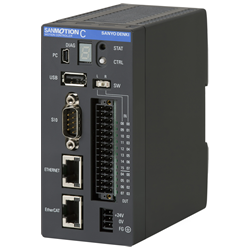 Features
1. Industry's Smallest Motion Controllers(1)
These ultra-compact motion controllers measure only 120 mm (H) × 55 mm (W) × 110 mm (D). Their small footprint design supports space saving and cost reduction.
2. Flexible System Configuration
The new lineup features two types: an A type which can control robots and electronic cams, and a B type which specializes in PTP motion.
It is possible to control I/O signals while performing complex multi-axis motion and robot control. This enables flexible system configurations for a variety of applications and functions.
3. IoT(2)-enabled
Ethernet, RS-485, and USB interfaces for connecting to various peripherals come standard. It is also possible to use Modbus TCP over Ethernet.
The new models also conform to machine-to-machine (M2M) communication standard OPC-UA(3) to seamlessly connect to various devices.
In addition, with the web server function, it is possible to monitor the operational status, and read and write program variables using a standard web browser on any PC. These models make it simple to integrate IoT technology into any system.
(1) Compared with digital I/O motion controllers capable of sequence, motion, and robot control in one unit. Based on our own research as of October 10, 2018.
(2) Internet of things: A system that connects electronic devices to a network so that they can communicate, interact, and be mutually controlled.
(3) Object Linking and Embedding for Process Control - Unified Architecture: Data interoperability standard.
Specifications
Model
SMC100-A
SMC100-B
Interface
EtherCAT (100 Mbps) master function
Ethernet (10/100/1000 Mbps) protocols (Modbus TCP, OPC-UA)
RS-485 (9600 to 115200 kbps)
USB 2.0 (for memory storage)
Digital I/O
Digital input: 16 points, 24 VDC, positive/negative common input
Digital output: 8 points, 24 VDC, 0.5 A, sinking output
Input power
24 VDC (19.2 to 30 VDC), 0.8 A
Power consumption
19.2 W
Cooling method
Passive
Dimensions
120 mm (H) × 55 mm (W) × 110 mm (D)
Mass
300 g
Max. no. of controllable axes
8
Control functions
Sequence control
Motion control


(Electronic cam, electronic gear, linear interpolation, circular interpolation)


Robot control


(Cartesian coordinate, SCARA, and parallel link robots)

Sequence control
Motion control


(PTP control)

Control language
Programming language conforming to international standard (IEC 61131-3)
G-code (for the SMC100-A)
PDF Catalog
Applications
Robots, conveying machines, and semiconductor manufacturing equipment
Release Date
October 24, 2018
Price
Open
Note: The information stated in this release is current as of October 10, 2018.
" SANMOTION " is a trademark of SANYO DENKI CO., LTD.