Product News
SANYO DENKI Develops 400 VAC, 150 and 300 A Servo Amplifiers
That Can Predict Failures
Detects danger and stops motors immediately
April 10, 2018
SANYO DENKI CO., LTD. has developed new AC servo amplifiers, expanding the lineup of the SANMOTION R 3E Model series.
This servo amplifier has been equipped with a function for predicting equipment failures using the operating data of the amplifier and motor.
It can operate 5.5 to 30 kW motors smoothly, making it ideal for equipment such as machine tools and injection molding machines.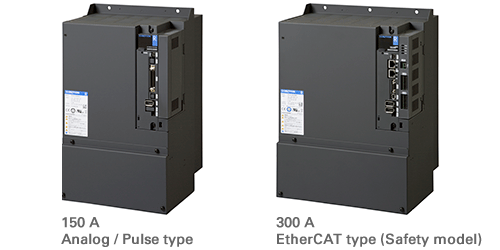 Features
1. Innovative Maintenance
This servo amplifier is equipped with various functions: holding brake deterioration diagnosis,(1) power consumption monitoring of regenerative resistors, monitoring of encoder communication quality, and a relay counter.
These enable users to predict equipment failures, leading to innovations in maintenance.
2. Safe and Efficient System
Equipment can be decelerated or stopped immediately when a worker approaches it, ensuring the safety of the workplace.
Furthermore, motors can be stopped with power still available to the equipment, shortening the reboot time.
3. Smooth Motion
In addition to regular analog/pulse models, models with high-speed EtherCAT fieldbus are also available.
The EtherCAT communication cycle is 1/2(3) that of our conventional model,(2) achieving even smoother motion of the embedded equipment.
4. Energy-Saving
The power consumption has been reduced by up to 20%, contributing to saving energy.(4)
(1) Patent pending
(2) Comparison with the SANMOTION R ADVANCED MODEL EtherCAT interface type.
(3) The shortest communication cycle: 62.5 μs (125 μs for the above product in (2))
(4) Comparison with our conventional servo amplifier RS1C15A.
Specifications
Control function
Position control, speed control, torque control (switched with parameters)
Control method
Sine PWM drive with IGBT
Main circuit power supply
三相 AC 380 V to 480 V (+10%,-15%)  50/60 Hz (±3 Hz)
Control circuit power supply
DC24 V (±10%) 2.0 A (150 A), 2.5 A (300 A)*
Compatible motors
SANMOTION R servo motors of 5.5 to 30 kW
Functions / properties
- Vibration suppression control, model-following control
- High gain control
- Adaptive notch filter
- Real-time witchover between trajectory control and positioning control
- Micro-vibration control of motors at standstill
- Power consumption monitoring function
Support for startup
- Virtual motor operation function to simulate motor and amplifier operations
- Assist function to navigate on servo tuning
- Drive recorder function for recording motor and amplifier operating status
* When powering motor holding brakes with the control power, consider the holding brake current requirements of combination motors for both 150 and 300 A models.
Functional Safety Specifications
Servo amplifier type
Safety functions as per
IEC/EN 61800-5-2:2016
Safety level
EN 61508
IEC/EN 62061
ISO 13849-1:2015
EN ISO 13849-1:2015
STO model,
Safety model
STO
Safe Torque Off
SIL3, SILCL3
Cat.3 PL=e
Safety model
SS1
Safe Stop 1
SS2
Safe Stop 2
SOS
Safe Operating Stop
SLS
Safely-Limited Speed
SBC
Safe Brake Control
SSM
Safe Speed Monitor
Lineup
Servo amplifier
capacity
Interface
(safety functions
in parentheses)
Model no.
Dimensions


(mm)

Mass


(kg)

Compatible motor


rated output

150 A
Analog/Pulse
(without STO)
RS3C15A0☐L0
220 × 375 × 230
11.0
5.5 to 15 kW
Analog/Pulse
(with STO)
RS3C15A0☐L2
Analog/Pulse
(Safety model)
RS3C15A0☐LC
EtherCAT
(with STO)
RS3C15A2HL4
EtherCAT
(Safety model)
RS3C15A2HLE
300 A
Analog/Pulse
(without STO)
RS3C30A0☐M0
270 × 375 × 235
18.0
20 to 30 kW
Analog/Pulse
(with STO)
RS3C30A0☐M2
Analog/Pulse
(Safety model)
RS3C30A0☐MC
EtherCAT
(with STO)
RS3C30A2HM4
EtherCAT
(Safety model)
RS3C30A2HME
Note: ☐'s are wildcard characters for general-purpose output types. A: sinking (NPN) type, B: sourcing (PNP) type.
PDF Catalog
Applications
Machine tools, injection molding machines
Release Date
April 10, 2018
Price
Open
Note: The information stated in this release is current as of April 10, 2018.
" SANMOTION " is a trademark of SANYO DENKI CO., LTD.