Product News
SANYO DENKI Develops
SANMOTION F2 42 mm sq. 2-Phase Stepping Motors
Ideal for applications in devices such as ATM and medical inspection equipment
October 31, 2017
SANYO DENKI CO., LTD. has developed 42 mm sq. 2-phase stepping motors, expanding the product lineup of the SANMOTION F2 series.

With improved holding torque* and reduced noise and vibration, these motors demonstrate industry-leading performance** among stepping motors used in devices such as ATM and medical inspection equipment.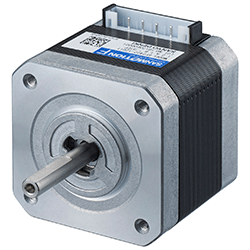 Features
1. Shortens positioning time
Holding torque has been increased approximately by 10% compared with our current model.***
This enables precise positioning and thereby shortens positioning time as well.
2. Reduced noise
These motors have noise levels approximately 3 dB(A) lower than the current model.***
3. Energy-saving
Motor efficiency has been improved by 2.4% compared with the current model.***
This contributes to reducing power consumption of devices and the motors' heat dissipation.
* The maximum amount of torque generated when a stepping motor is excited by its rated current.
** Based on our own research as of October 31, 2017, conducted among equally sized industrial 2-phase stepping motors on the market.
*** A comparison between our current model 103H5208-0440 and new model SF2422-12U41.
Specifications
Model number
Flange size
× Motor length
[mm]
Holding torque
at 2-phase excitation
[N·m]
Rated
current
[A/phase]
Mass
[kg]
Single shaft
Dual shaft
SF2421-12U41
SF2421-12U11
42 × 33
0.22
1.2
0.23
SF2422-12U41
SF2422-12U11
42 × 39
0.33
1.2
0.3
SF2423-12U41
SF2423-12U11
42 × 48
0.4
1.2
0.38
SF2424-12U41
SF2424-12U11
42 × 59.5
0.58
1.2
0.51
PDF Catalog
Order Start Date
November 17, 2017
Price
Open
*The information stated in this release is current as of October 31, 2017.
" SANMOTION " is a trademark of SANYO DENKI CO., LTD.