Product News
SANYO DENKI Develops SANUPS W75A Rectifier for Wind Power and Hydro Power Generation Systems
January 29, 2020
SANYO DENKI CO., LTD. has developed and released SANUPS W75A, a rectifier for wind power and hydro power generation systems.
It has various protection functions and excellent environmental durability.
A highly reliable power generation system can be configured by combining it with our power conditioner (inverter) for wind power and hydro power generation systems.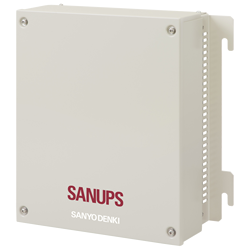 Features
1. Industry's Highest Output Capacity(1)
This product converts the AC output from a generator to a DC output.
It has an output capacity of 11 kW, which is the highest in the industry.
2. IP65-Rated Ingress Protection(2)
The W75A features superior waterproof and dustproof performance.
By combining it with our SANUPS W73A inverter that has an equal level of protection, systems with high environmental durability can be built.
3. Protection Functions (Brake, Abnormal Temperature Detection)
The product has protection functions for ensuring reliable power generation, including a function for detecting abnormal temperatures and a brake function to prevent damage to the inverter when an unexpected amount of power is generated by wind turbines or hydroelectric generators.
4. Generator Speed Monitoring
It has a function to output the speed of generators, enabling the monitoring of generator operating status via external computers.
5. Applicable to Biomass and Geothermal Power Generation
Use of this rectifier is not limited to wind and hydroelectric power generation systems.
It can be used in a variety of renewable energy generation systems, including biomass and geothermal power generation.
(1) Based on our own research as of January 29, 2020, conducted among 3-phase inverters for wind power and hydroelectric power generation systems.
(2) The degree of protection (IP code) is defined by IEC 60529 (International Electrotechnical Commission).
IP65:
• Complete protection against dust
• Protected against water spray from all directions
Specifications
| | |
| --- | --- |
| Model no. | W75A113 |
| No. of input phases/wires | 3-phase 3-wire |
| Input voltage range | 106 to 420 VAC |
| Output voltage range | 0 to 600 VDC |
| Output capacity | 11 kW |
| Operating temperature range | -25 to + 60°C |
| Protection rating | IP65 |
| Enclosure material | Stainless steel (SUS) |
PDF Catalog
Applications
Wind, hydroelectric, biomass, geothermal, and other power generation systems
Release Date
March 2, 2020
Price
Open
Note: The information stated in this release is current as of January 29, 2020.
"SANUPS" is a trademark of SANYO DENKI CO., LTD.