President's Message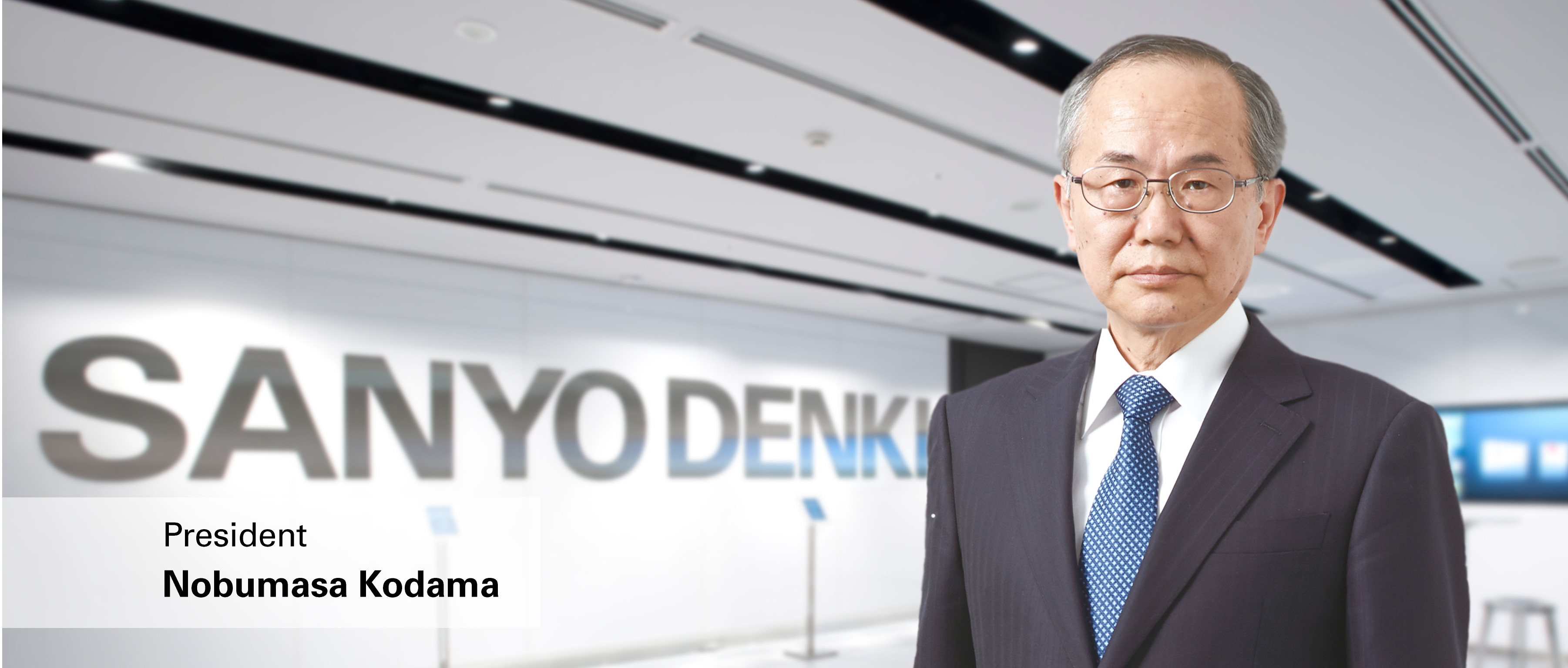 The Aims of SANYO DENKI
The purpose of any company and the people within it, is to continuously strive to accomplish goals.
At SANYO DENKI, we strive to achieve the goals stated in our corporate philosophy.
If at first glance those goals seem unclear, I would like you to take another look at our philosophy, and give the subject some more thought.
Anyone who can empathize with our corporate philosophy, is qualified to be one of us. Please read it carefully, and consider it deeply.
The Aims Of SANYO DENKI Products
There is no greater joy than hearing success stories of devices (eg. robots, computers, etc.) containing SANYO DENKI products manufactured by our customers, or when we hear of our products being used in public facilities.
Therefore, the first priority of SANYO DENKI products is to be useful to customers and society. In order to develop such products, we need to have a firm grasp of the goals of our customers and society.
The technologies and products we develop are also based on 3 core technologies: "technology for protecting the global environment", "technology for protecting people's health and safety", and "technology for using new energy sources and saving energy".
Expectations Of Our Employees
People spend a considerable amount of their precious lives at work, which hardly seems like a reward in itself.
Therefore, guided by our corporate philosophy, SANYO DENKI encourages all of its employees to self-actualize through their work and other corporate activities.
By self-actualization we mean personal growth that enables you to do something that you want to do, or were previously incapable of doing. Self-actualization is the most advanced form of human development.
SANYO DENKI realizes the importance of, and fully supports employees' efforts to display their abilities, and grow as individuals.
Globalization
Thanks to the cooperation of our local and international staff, we continue to build a successful network of companies across the country and around the globe, connected by the same corporate philosophy and managerial policies.
SANYO DENKI's domestic network of sales offices, including head office, extends from Sapporo in the north, to Fukuoka in the south. Overseas we have branches in the U.S., France, Germany, Poland, Singapore, Thailand, India, Korea, Taiwan, Hong Kong, and mainland China, in Shanghai, Shenzhen, Beijing, Chengdu, and Tianjin.
While our domestic manufacturing facilities are concentrated in the city of Ueda in Nagano Prefecture, production is also carried out at our factories in Subic in the Philippines, and Zhongshan in China.
Likewise, the procurement of materials is done by both our domestic manufacturing facilities, and our branch offices and plants overseas.
Workplace Environment
Our company does not discriminate on the basis of nationality, race, birthplace, gender, age, religion, creed, educational background, or personal preferences. All employees are treated impartially.
Notwithstanding promotions, raises, advancement, etc., fairness toward employees is maintained.
Regarding marriage, childbirth and child-rearing, we provide substantial maternity and childcare leave, and we have a reduced work schedule system to ease people back into their jobs upon their return.
Under our company's "Personal Declaration System", employees can make their preferences to take on a different job assignment or transfer to another workplace, known. Although there is no guarantee that requests will be granted, they are taken into account when transfers are made. Anyone has the chance to work anywhere in the world.
The paramount rules of our company's "Corporate Activity Standards" guide both the actions of our company and its employees. We have mechanisms to immediately eradicate any possible legal improprieties. We are free of power harassment and sexual harassment.
In Conclusion, We're Proud Of Our Work
Although we are sometimes shy about saying it, each of SANYO DENKI's products are currently the best in the world. They are the best in terms of performance, quality, and reliability.
Our aim is not just to sell more products, but to enable customers to achieve their goals. In addition to our existing models, our design engineers directly consult customers to develop highly competitive, custom-made products that meet or exceed those goals.
Making world-leading products requires a highly skilled workforce. To maintain and enhance our skills, we continue to enhance our professional development program, known as the "SANYO DENKI Academy".
We have a free and lively business culture, in which people are not divided by seniority, nor past academic achievements. Any employee can implement innovations in their workplace. Innovative successes are presented at twice-annual events, in which excellence is rewarded. With optimization in mind, we also make regular, systematic adjustments to our organization and work assignments.
In all modesty, we cannot help recommending that people join our company.