Product News
SANYO DENKI Develops Parallel Redundant UPS SANUPS A11N-Li with Long-Life Lithium-Ion Battery
September 14, 2023
SANYO DENKI CO., LTD. has developed and launched the highly efficient SANUPS A11N-Li parallel redundant double conversion online UPS with lithium-ion battery. Among UPSs with equivalent specifications, this is the first in the industry to use lithium-ion batteries.(1)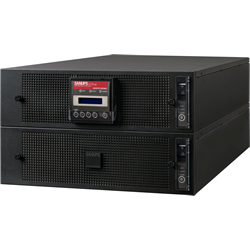 10 kVA
Features
1. Long Service Life
The UPS uses lithium-ion batteries. It can operate for 10 years without battery replacement,(2) reducing the maintenance work and costs.
2. Space-Saving and Lightweight
The compact 3U-sized(1) UPS unit is suitable for standard EIA/JIS 19-inch racks. The mass and volume have been reduced by up to 42% and 25%, respectively, compared to our current product.(3)
3. High Reliability
By combining up to four 5 kVA UPS units, output capacity can be expanded to up to 20 kVA or up to 15 kVA for parallel redundant operation. The parallel redundant operation allows one unit to be used as a spare unit, delivering a highly reliable and stable power supply to loads. In addition, this UPS performs battery self-tests automatically at regular intervals, preventing malfunction due to battery run-out in the event of a power failure.
4. High Efficiency
This UPS achieves a conversion efficiency of 94% or greater (up to 95.1%).(1)
5. For Use as an Emergency Battery
This UPS features battery cold start function(4) that enables the UPS unit to start up and power loads from the battery even without grid AC power.
(1) In a 5 kVA configuration with a single unit.
(2) Assuming 10 power outages per year and an ambient temperature of 30°C.
(3) Current product: SANUPS A11N (with lead-acid batteries, single unit, 5 kVA output capacity, backup time of 10 minutes)
(4) This function is selectable at the time of order.
Specifications
Rated output capacity
5 kVA
10 kVA
15 kVA
20 kVA
Topology
Double conversion online
AC input
Number of phases/wires
Single-phase 2-wire
Rated voltage
200/208/220/230/240 V
Input power factor
0.95 or greater
AC output
Number of phases/wires
Single-phase 2-wire
Rated voltage
200/208/220/230/240 V
Voltage regulation
Within ±2% of rated voltage
Load power factor
Rated
0.9 (lagging)
Variation range
0.7 to 1.0
Backup time
10 min (At 25°C ambient temperature, 0.9 load power factor, using new, fully charged batteries)
Operating environment
Ambient temperature: -10 to +55°C,*
Humidity: 10 to 90% RH (non-condensing)
Expected service life
10 years
* When exceeding 40°C, a 5% load reduction from the rated capacity is required for each 1°C increase.
PDF Catalog
Applications
Servers, base stations, and factory facilities
Release Date
September 29, 2023
Price
Open
The information stated in this release is current as of September 14, 2023.
SANUPS is a registered trademark of SANYO DENKI CO., LTD.