Product News
SANYO DENKI Develops Space-Saving, High-Efficiency Online UPS SANUPS A13A
August 31, 2023
SANYO DENKI CO., LTD. has developed and launched the SANUPS A13A double conversion online UPS with high efficiency and reliability.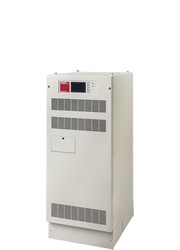 6.25 kVA, 12.5 kVA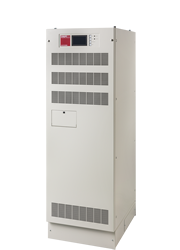 18.75 kVA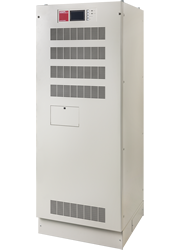 25 kVA
Features
1. High Efficiency
This UPS achieves a conversion efficiency of 92%, contributing to reduced power consumption and CO2 emissions.
2. High Reliability
By combining 6.25 kVA UPS modules, output capacity can be expanded to up to 25 kVA or up to 18.75 kVA for parallel redundant operation. The parallel redundant operation allows one unit to be used as a spare unit, delivering a highly reliable and stable power supply to loads.
3. Industry's Widest Operating Voltage Range*
When the load level is below 80%, the UPS does not transfer to battery power until the input voltage falls below -30%, preventing degradation of the battery. Its operating voltage range is the widest in the industry.*
4. Long Service Life
The expected life of the UPS has been extended from 10 to 15 years from its predecessor.
5. Industry's Smallest Footprint Required*
This UPS has the industry's smallest footprint per unit of output capacity.
* Based on our own research as of August 31, 2023, conducted among UPSs on the market with the same topology, voltage, capacity, and backup time.
Specifications
Rated output capacity
6.25 kVA
12.5 kVA
18.75 kVA
25 kVA
Topology
Double conversion online
AC input
Number of phases/wires
3-phase 3-wire
Rated voltage
200/210/220 V
Voltage range
At load levels ≥ 80%: Within ±15% of rated voltage
At load levels < 80%: Within -30 to +15% of rated voltage
AC output
Rated voltage
200/210/220 V
Voltage regulation
Within ±2% of rated voltage
Load power factor
Rated
0.8 (lagging)
Variation range
0.7 to 1.0
Backup time
8 min (At 25°C ambient temperature, 0.8 load power factor, using new, fully charged batteries)
Operating environment
Temperature: 0 to +40°C
Humidity: 30 to 90% RH (non-condensing)
Expected service life
15 years (excluding regular replacement parts)
Dimensions (mm)
Width
500
500
500
650
Depth
650
650
650
650
Height
1200
1200
1495
1670
Mass
220 kg
320 kg
430 kg
550 kg
PDF Catalog
Applications
Data centers, telecom equipment, telecom infrastructure, production lines, and research facilities
Release Date
September 29, 2023
Price
Open
The information stated in this release is current as of August 31, 2023.
The description of the Features section 3 has been changed on September 4, 2023.
SANUPS is a registered trademark of SANYO DENKI CO., LTD.