Product News
SANYO DENKI Developed Air Purifier with Low Noise and High Airflow of 16.5 m3 That Can Filter, Sanitize, and Deodorize Air in Large Rooms
June 20, 2022
SANYO DENKI CO., LTD has developed and released an air purifier named San Ace Clean Air, which can filter, sanitize, and deodorize the air in large rooms quietly with high airflow. This product is ideal for use in large rooms such as hospital waiting rooms, nursery schools, school classrooms, and conference rooms.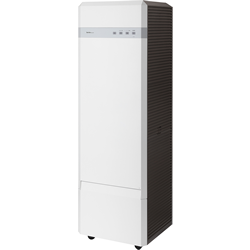 Features
1. High Airflow, Low Noise, and Low Power Consumption
With a high airflow of 16.5 m3/min,(1) a large room of 127 m2 can be cleaned in 30 minutes.(2) Also, the product operates at a low noise level of 54 dB(A)(1) and consumes power of only 90 W,(1) efficiently keeping rooms comfortable. The built-in fan has been newly developed based on our proprietary low-noise technology as a cooling fan manufacturer.
2. Efficient Air Circulation
The air is drawn in from both sides of the product and blown out from the top for smooth air circulation in the room.
3. High Dust Removal Performance
The product's HEPA filter has a large filtration area and removes over 99.97% of fine particles of 0.3 μm.(3) This effectively removes pollen, dust, and dirt from the air.
4. Sanitization
With a HEPA filter and photocatalytic filter, the product sanitizes the air and reduces airborne viruses, bacteria, and molds.(4)
5. Deodorization
The synergistic effect of the photocatalytic and activated carbon filters further enhances the deodorizing performance.
(1) When operating in operation mode 3 [High].
(2) Calculated by the test method based on the Japan Electrical Manufacturers' Association (JEMA) standard, JEM 1467.
(3) This is the filtration performance of the filter and not about the filtration of the entire room.
(4) This effect was confirmed in a closed test space of 25 m3 as per JEMA's JEM 1467 standard and not in actual practice.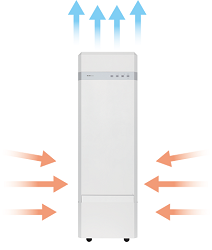 Illustration of the inlet and outlet airflow
Specifications
9AP1600 series
| | |
| --- | --- |
| Dimensions [mm] | 500 (W) × 400 (D) × 1600 (H) |
| Mass [kg] | 40 |
| Power supply | Single-phase 100 V (50/60 Hz) |
| Power cord length [m] | 2.6 |
| Room coverage | Up to 127 m2 * |
* Calculated by the test method based on the Japan Electrical Manufacturers' Association (JEMA) standard, JEM 1467.
Operation mode
1 [Low]
2 [Medium]
3 [High]
Auto mode
Airflow [m3/min]
3.2
10.5
16.5
Built-in sensors detect dust and odors to automatically select the optimal operation mode.
Power consumption [W]
18
28
90
Noise level [dB(A)]
30
45
54
| | |
| --- | --- |
| Sensor | Dust, odor |
| Dust removal | HEPA filter |
| Sanitization, deodorization | Photocatalytic filter, deodorizing (activated carbon) filter |
| Functions | Auto-off timer (3/6/12 hours), key lock function (disables all buttons except the power off to prevent accidental button presses) |
Location
Hospital waiting rooms, nursery schools, school classrooms, conference rooms, gyms, hotel lobbies, nursing and welfare facilities, salons, restaurants, etc.
Release Date
July 15, 2022
Price
Open
- Note on the air purifier's dust removal and deodorization capabilities - Toxic substances in cigarette smoke (carbon monoxide, etc.) cannot be removed. Odors from odor sources (building materials, pets, etc.) cannot be removed completely.
The information stated in this release is current as of June 20, 2022.
San Ace is a trademark of SANYO DENKI CO., LTD.