Product News
SANYO DENKI Develops SANUPS C23A CE Marking Compliant Voltage Dip Compensator
February 12, 2020
SANYO DENKI CO., LTD. has developed and released CE marking compliant models of the SANUPS C23A voltage dip compensator that allow no interruption. The C23A will stably compensate for voltage dips or momentary outages. Factory productivity and equipment reliability can be increased in Asian and European countries where CE marking is required.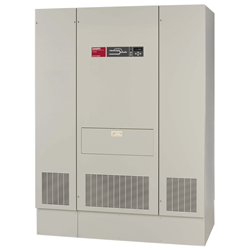 200 kVA
Features
1. No Interruption
Even in the event of voltage dips or momentary outages, the C23A continues to supply pure sinusoidal power without interruption.
This prevents equipment susceptible to voltage dips from stopping due to failure or malfunction, improving the productivity of factory facilities.
2. High Efficiency
The C23A uses a parallel processing topology to achieve a 97% efficiency.(1)
This reduces running costs and contributes to environmental preservation.
3. Active Filter Function
An active filter cancels the harmonics generated by equipment; the corrected current waveform is harmless to the power grid and other equipment.
At the same time, the power factor is corrected to approximately 1.0, eliminating wasted power consumption.
4. Reduced Maintenance Costs
A long-life electric double-layer capacitor (EDLC) is used instead of lead-acid batteries, reducing maintenance labor and costs.
5. CE Marking Compliant
These models are compliant with the Low Voltage Directive, EMC Directive, and the amended RoHS (RoHS2) Directive, and therefore can be used in Asian and European countries where CE marking is required.
(1) For 100 and 200 kVA models.
Specifications
Model no.
C23A503C
C23A104C
C23A204C
Rated capacity
50 kVA
100 kVA
200 kVA
Topology
Parallel processing
AC input/output
No. of phases/wires
3-phase 3-wire
Rated voltage
200/210/220 V
Rated frequency
50/60 Hz
Current harmonic distortion compensation
85% or higher compensation, 2nd to 20th order harmonics(1)
Transfer time to capacitor operation
0 s (No interruption)
Dip compensation time
1 s or more (At rated load) (2)
(1) At 100% rectifier load
(2) Rated load: At a load power factor of 0.8 (lagging) and 25°C ambient temperature
PDF Catalog
Applications
Semiconductor manufacturing equipment, liquid crystal manufacturing equipment, factory equipment, and power equipment
Release Date
February 12, 2020
Price
Open
The information stated in this release is current as of February 12, 2020.
"SANUPS" is a trademark of SANYO DENKI CO., LTD.