Product News
SANYO DENKI Releases LAN Interface Card with Modbus
Contributes to stable production facility operation
August 20, 2019
SANYO DENKI CO., LTD. has added the industry standard Modbus(1) communications protocol to its LAN Interface Card, an optional product for uninterruptible power supplies (UPS).
The seamless connection between production facilities and UPSs contributes to the stable operation of production facilities.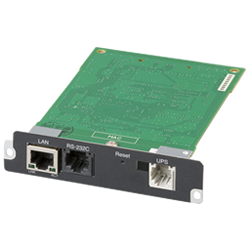 Modbus TCP model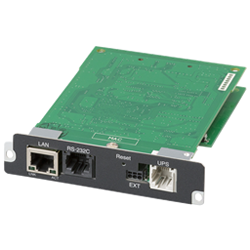 Modbus TCP/RTU model
Features
1. Contributes to the Stable Operation of Production Facilities (Modbus Slave Function)
UPS status can be monitored from Modbus masters such as PLCs and monitoring control systems.
This card provides centralized control of the entire system's power status, contributing to the stable operation of production facilities.
2. Monitoring by UPS (Modbus Master Function: Industry's First(2))
The UPS acts as a Modbus master and can monitor the state of Modbus slaves, such as sensors, measuring instruments, and I/O modules. A notification email can be sent to an administrator when abnormalities occur.
3. Easy Connection to Production Facilities
Supporting the industrial standard Modbus RTU(3) protocol and the Modbus TCP(4) internet communications protocol, it can easily connect with customers' Modbus devices.
4. Ideal for Connecting to ICT Devices
Because it is compatible with our existing LAN Interface Cards, it can also be connected to ICT devices. In addition, it has a function to shut down virtual platforms and virtual operating systems such as HCI.(5)
(1) Modbus: A communications protocol which is commonly used for exchanging data between industrial devices.
(2) Based on our own market research as of August 20, 2019.
(3) Modbus RTU: A widespread variant of Modbus. Data communication is mainly carried out through RS-485.
(4) Modbus TCP: A Modbus variant used for communications over TCP/IP networks.
(5) HCI (Hyper-Converged Infrastructure): A virtual platform that combines functions such as servers and storage.
Specifications
Function
・ Automatic computer shutdown (supports multi-platform)
・ Shutdown of power redundancy computers
・ Automatic computer startup at power restoration
・ Scheduled operation
・ UPS status display (supports web browser, SSH or Telnet)
・ SNMP agent (RFC1628, JEMA-MIB, SANYO DENKI private MIB)
・ Sending/receiving emails
・ Supports NTP (Network Time Protocol)
・ Download/upload of UPS setup values
・ Test function (script execution, sending emails, sending SNMP traps, shutdown)
・ Notification of events to the syslog server
・ Threshold monitoring of measurement values
・ Statistical graph display
・ Modbus master/slave function
・ UPS/Modbus measurement value collection and data storage

Note 1: Can operate in dual stack configuration using both IPv4 and IPv6 addresses.

Note 2: Registered devices can be registered with a host name, or an IPv4 or IPv6 address.

Supported protocols
TCP/IP, UDP, DHCP, SNMP (v1, v2c, v3), HTTP, HTTPs, Telnet, SSH, FTP, FTPs, SMTP (over SSL/TLS), POP3 (over SSL/TLS), APOP, NTP, Modbus RTU, Modbus TCP
Power consumption
2.1 W or less
External dimensions (W×D×H)
105 × 125 × 23.5 mm
PDF Catalog
Release Date
September 1, 2019
Price
Open
Note: The information stated in this release is current as of August 20, 2019.
"SANUPS" is a trademark of SANYO DENKI CO., LTD.