Product News
SANYO DENKI Launches 200 VAC Highly Reliable
Parallel Redundant Double Conversion Online UPS
Can be used all over the world
March 13, 2019
SANYO DENKI CO., LTD. has developed and launched the SANUPS A11M parallel redundant double conversion online UPS.
It has a single-phase 2-wire 200 VAC input/output voltage. By combining 1 kVA UPS units, output capacity can be expanded up to 8 kVA. With wide input supply and operating temperature ranges, it can be safely used around the world.
It is suitable for providing backup power to public institutions, transportation (roads, railways, airports), hospitals, banks, and data centers.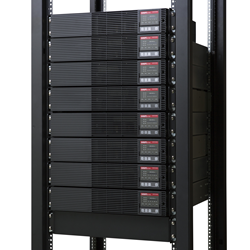 Features
1. High Reliability
UPS units can be combined in a parallel redundant configuration to provide stable power.
2. Wide Input Voltage Range
The input voltage range is 110 to 300 V, and the input frequency range is 40 to 120 Hz.
Even with poor power conditions, these wide ranges reduce the number of unnecessary transfers to battery power, minimizing battery drain.
3. Wide Operating Temperature Range
The operating temperature range is -10 to +55°C.
4. Easy Maintenance
Battery packs can be replaced from the front even during inverter operation.
UPS units can be replaced without interrupting output during parallel redundant operation. In addition, power can continue to be supplied even if an outage occurs during maintenance.
Specifications
Items
Specifications
Rated output capacity
2 to 8 kVA (Parallel redundant configuration: 1 to 7 kVA)
UPS topology
Double conversion online
AC input
Voltage range
110 to 300 V
Number of phases/wires
Single-phase 2-wire
Frequency range
40 to 120 Hz
AC output
Rated voltage
200/208/220/230/240 V
Voltage regulation
±5%
Load power factor
0.8 (lagging)
Backup time*
3 min
Operating environment
Temperature: -10 to 55°C
Humidity: 10 to 90% RH (non-condensing)
* At 25°C ambient temperature and load power factor of 0.8, using new, fully charged batteries
PDF Catalog
Applications
Public institutions, transportation (roads, railways, airports), hospitals, banks, data centers
Release Date
April 1, 2019
Price
Open
Note: The information stated in this release is current as of March 13, 2019.
"SANUPS" is a trademark of SANYO DENKI CO., LTD.