Product News
SANYO DENKI Develops UPS with Li-ion Batteries
200 VAC model that can be installed outdoors
December 12, 2018
SANYO DENKI CO., LTD. has developed a 200 VAC, 1 kVA model for the SANUPS N11B-Li standby UPS series that use lithium-ion batteries.
This UPS is suitable for use in Asia and Europe due to its single-phase 2-wire 200 VAC input/output voltage.
It has the widest operating temperature range and the highest protection rating in the industry, ensuring stable operation even in extreme temperatures, both indoors and outdoors.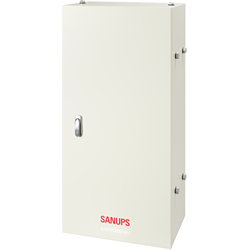 Features
1. Industry's Widest Operating Temperature Range
Its operating temperature range is from -20 to +50°C, which is the widest in the industry.(1)
They can be used with confidence even in harsh cold or hot environments.
2. Industry-leading Ingress Protection Rating
The N11B-Li has an industry-leading IP65 water and dust resistance rating.(1)
This eliminates the need for preparing protective measures against water and dust.
3. Long Service Life
This UPS uses lithium-ion batteries, and the expected battery life is approximately twice as long as our conventional UPS(2) that uses lead-acid batteries.
It can operate for 10 years without battery replacement,(3) reducing maintenance man-hours and costs.
(1) Based on our own research as of December 12, 2018, among UPSs on the market with the same topology, voltage, capacity, and backup time.
(2) Our conventional UPS: A11K (with lead-acid batteries)
(3) Assuming 10 power outages per year and 30°C ambient temperature
Specifications
Item
Specifications
Rated output capacity
1 kVA
Topology
Passive standby
Transfer time
10 ms or less
Efficiency (AC-AC)
94%
AC input/output
Rated frequency
50/60 Hz (auto-sensing)
No. of phases/wires
Single-phase 2-wire
Rated voltage
200/220/230/240 VAC
Load power factor
1.0
Battery backup time*
150 min
Operating environment
Ambient temperature: -20 to +50°C
Relative humidity: 10 to 95% (non-condensing)
Protection rating
IP65
* At 25°C ambient temperature and load power factor of 0.7, using new, fully charged batteries.
PDF Catalog
Applications
Communication servers, base stations, data centers, security systems, surveillance cameras, ships, transportation systems, small generator alternatives, and industrial machines
Release Date
December 12, 2018
Price
Open
Note: The information stated in this release is current as of December 12, 2018.
"SANUPS" is a trademark of SANYO DENKI CO., LTD.