Product News
SANYO DENKI Develops IoT-Enabled San Ace Controller
Industry's first controller that can remotely monitor and automatically control fans
February 19, 2019
SANYO DENKI CO., LTD. has developed and released the San Ace Controller, the industry's first fan controller that enables automatic speed control and remote monitoring of PWM fans.*
This controller can optimize airflow and static pressure of up to four fans by controlling individual fan speeds. Also, sensor measurements can be stored and used for automatic fan control, contributing to reducing noise and improving energy efficiency. Moreover, it enables remote monitoring and control of fans via a cloud server. Value-added features include fault detection and preventive maintenance measures for user equipment.
This product is suitable for applications such as automatic control of temperature, humidity, and air pressure for home ventilation, heat exchangers, air conditioners, and plant factories, and preventive maintenance of base stations, industrial equipment, and digital signage.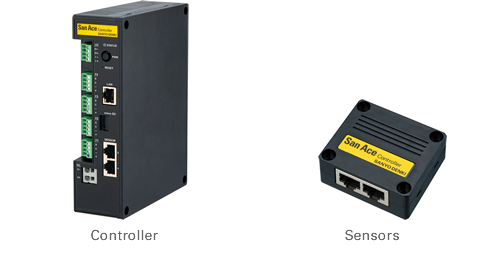 Features
1. Preventive maintenance of equipment (IoT functionality)
Easy to connect to user's terminal devices. (Wireless LAN / wired LAN)
Enables users to monitor the status of fans and sensors from remote terminal devices.
Enables users to control the fan speed remotely via terminal devices.
Detects outlier sensor measurements and sends alerts.
Saves the fan's cumulative operating time and other fan measurement data to the cloud for later use.
Prevents heat problems with user equipment, contributing to reducing maintenance time and costs.
2. Low noise and high energy efficiency (Automatic control)
Stores temperature, humidity, and air pressure measurements for automatic fan speed control based on the setting conditions.
Makes fan cooling and ventilation more efficient, reducing noise and improving efficiency.
3. Optimized fan settings (Manual control)
Can connect and control a maximum of four fans, enabling different speed settings for individual fans.
Optimizes the airflow and static pressure of individual fans in multi-fan systems.
* Based on our own research as of February 19, 2019.
Specifications
Controller
Model no.
9CT1-001
Rated voltage [VDC]
12/24/48
Power consumption [W]
3.1(1)
Operating voltage range [VDC]
7 to 60
Operating temperature range [°C]
-20 to +70
Control functions
Manual / automatic
Control signal
PWM signal
High-level voltage (VOH): 3.3/5 V
Frequency: 25 kHz
Monitoring criteria
Fan speed, fan current, fan operation hours, sensor detection value, external input
No. of connectable fans
Max. 4
Max. fan connection terminal current
5 A (per terminal)
No. of connectable sensors
Max. 4
Compatible sensors(2)
Temperature / humidity, air pressure, acceleration
External I/O functions
Input
Photocoupler-isolated input, ON: 15 to 28.8 VDC, OFF: 0 to 5 VDC
Output
Photocoupler-isolated open-collector output, load voltage: 28.8 VDC or less, output current: 0.1 A or less
Communication
Wireless
IEEE 802.11b/g/n, frequency: 2.4 GHz(3)
Wired
Ethernet 10BASE-T, 100BASE-TX
Size [mm]
50 (W) × 135 (D) × 180 (H)
Mass [g]
450
Material
Casing: Plastic
(1) For use of this product alone, at 20˚C ambient temperature
(2) Use our dedicated sensors (options).
(3) Available channels: Ch. 1 to 11
Controller
Sensor type
Temperature / Humidity sensor
Air pressure sensor
Accelerometer
Model no.
9CT1-T
9CT1-P
9CT1-A
Measurement range
Temperature: -20 to +70°C
Humidity: 20 to 85% RH(1)
Air pressure: 800 to 1100 hPa
Acceleration: 0 to 60 m/s2 (2)
Operating temperature range [°C]
-20 to +70
Operating humidity range [% RH]
20 to 85(1)
Size [mm]
53 (W) × 46 (D) × 22 (H)
Mass [g]
35
Material
Casing: Plastic
(1) Non-condensing
(2) Total acceleration from three axes
PDF Catalog
Applications
Home ventilation, heat exchangers, air conditioners, plant factories, base stations, industrial equipment, LED lights, and digital signage
Release Date
February 19, 2019
Projected Sales Figures
Controller: 300 units/month
Sensor: 600 units/month
Price
Open
Safety Precautions
Note: The information stated in this release is current as of February 19, 2019.
" San Ace " is a trademark of SANYO DENKI CO.,LTD.