Product News
SANYO DENKI Develops a PV Inverter with Peak Cut Function
Industry's leading 60 kVA power can be supplied during an outage
May 31, 2017
SANYO DENKI CO., LTD. has developed a PV inverter SANUPS P73L that can supply power of up to 60 kVA, which is leading in the industry.*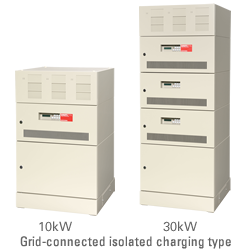 Features
1. Supplies power from 10 to 60 kVA during outages
This PV inverter can combine the battery power with PV-generated power to supply a maximum of 60 kVA to loads during outages.
2. Peak cut function equipped**
At nighttime, power from the grid can be stored in lithium-ion batteries, which can be used during the day together with the PV-generated power.
Power stored at night can be utilized efficiently, reducing the power costs.
Note: This product is designed for use in Japan.
* Based on our own research as of May 31, 2017 among peak cut systems in the market with capacity less than 100 kW.
** Only grid-connected isolated charging type has this function.
Specifications
Items
Grid-connected isolated charging type
Grid-connected isolated type
Peak cut function
Yes
No
System capacity
10 to 60 kW
Isolated output power
10 to 60 kVA
Nominal battery capacity
16 kWh / 25 kWh
-
Isolation method
PV panel - grid: High-frequency isolation transformer
Battery - grid: Transformerless
PV panel input
Input operating voltage range
150 to 570 VDC
AC output
Number of phases/wires
3-Phase 3-wire
Rated voltage
202 VAC
Rated frequency
50/60 Hz
Efficiency
93% or greater (At rated output with a power factor setting of 1.0)
Transfer setting to isolated operation
Automatic/Manual selectable (Factory setting: manual)
Circuit diagram
Grid-connected isolated charging type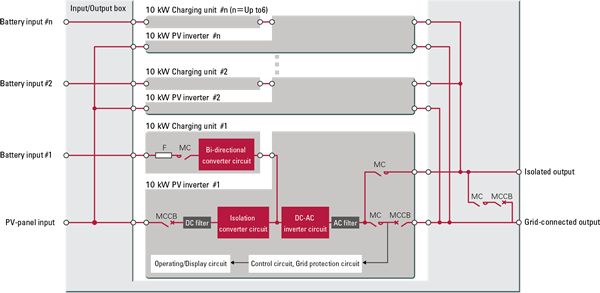 Grid-connected isolated type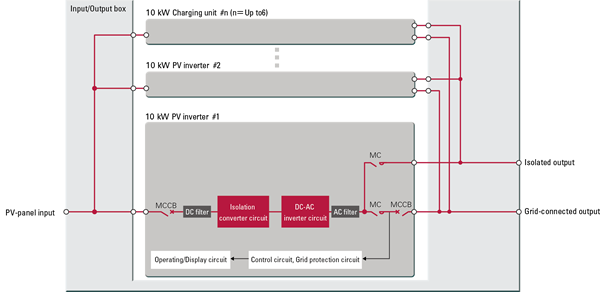 Applications
Photovoltaic power generation systems
Release Date
June 5, 2017
Note: The information stated in this release is current as of May 31, 2017.
"SANUPS" is a trademark of SANYO DENKI CO., LTD.