Product News
SANYO DENKI Develops New 1-Gigabit Ethernet LAN Interface Card for UPS
September 1, 2022
SANYO DENKI CO., LTD. has developed and launched a new LAN Interface Card, a UPS option for connecting a UPS to networks. This product monitors UPS status in real time to prevent power problems from damaging servers and systems.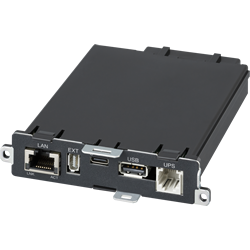 Features
1. High-Speed Communication
This card supports 1-Gigabit Ethernet for use in high-speed, high-capacity networks such as data centers and other various network environments.
2. Supports Shutdown of Various Servers
In addition to SSH (Secure Shell),(1) this card also supports REST API,(2) which is simple and highly versatile, for shutting down servers.
This enables servers that only support REST API to be shut down.
3. Improved User Convenience
The script setup wizard makes it easy to configure shutdown settings.
Wireless communication(3) is supported for remote monitoring from smartphones and tablet PCs.
Even without a PC, UPS operational information can be easily saved by simply connecting a USB flash drive.
(1) Communication protocol secured by data encryption.
(2) Communication method used for web communication.
(3) Requires a commercially available Wi-Fi dongle that we recommend.
Specifications
Functions

Automatic computer shutdown (multi-platform supported)
Shutdown of computers with redundant power supplies
Automatic computer startup at power restoration
Scheduled operation
UPS status display (Web browser and SSH/Telnet supported)
SNMP agent (RFC1628, JEMA-MIB)
Sending/receiving emails
NTP (Network Time Protocol) supported
Downloading and uploading UPS setting values
Test functions (script execution, sending emails, sending SNMP traps, shutdown)
Notification of events to the syslog server
Measurement value threshold monitoring
Statistical graphs
Modbus master/slave functions
Storage of collected UPS/Modbus/temperature and humidity sensor measurement data
Downloading operational information to a USB flash drive
Wireless communication (Access point mode, station mode)

Supported protocols
TCP/IP, UDP, DHCP, SNMP (v1, v2c, v3), HTTP, HTTPs, Telnet, SSH, FTP, FTPs, SMTP (over SSL/TLS), POP3 (over SSL/TLS), NTP, Modbus RTU, Modbus TCP
Dimensions
105 (W) × 125 (D) × 23.5 (H) mm
PDF Catalog
Release Date
September 1, 2022
Price
Open
The information stated in this release is current as of September 1, 2022.
SANUPS is a registered trademark of SANYO DENKI CO., LTD.